THERMO FILLING

The Rogowski company - a manufacturer of vegetable additives, introduces a new range of products with a wide range of applications in the food industry, which will make the production of cold cuts, ready meals and bakery industry products even more diverse.
Thermo fillings are primarily characterized by their thermal stability and original taste, typical of the product used, and the ease of dosing or stuffing.
Their uniqueness lies in the details, thanks to which we receive a unique product.The cheese filling can be combined with any vegetable or herbal additives, i.e.
cheese and broccoli filling
cheese filling with boletus
cheese filling with jalapeno pepper
cheese filling with nettle and linseed
Product advantages:
filling made of real cheese
velvety texture
original, intense flavor and aroma
easy to dose and stuff
Thermo vegetable filling:
Fillings, thanks to which each dish will gain a natural color and flavor. Their variety will satisfy even the most demanding palates.
broccoli and spinach filling
pepper filling
pumpkin filling with chilli peppers
Product advantages:
the best quality raw materials
vegan products
remain flexible and plastic
natural flavor and color
we make fillings from every vegetable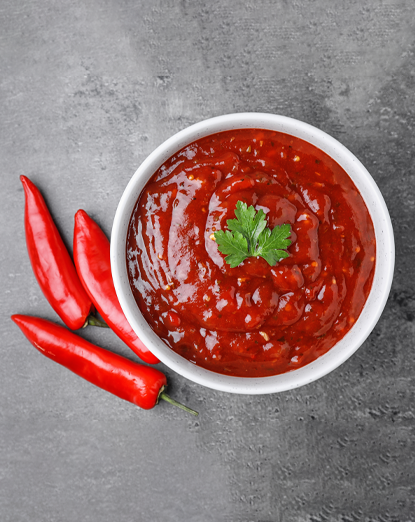 Known and liked flavors in a new, unusual version. Sauces, such as mustard, ketchup, and even barbecue sauce, which is so popular in the summer season, are presented in a new, interesting form, giving great possibilities of using this product. We make fillings with the following flavor:
mustard
ketchup
barbecue sauce
red chilli sauce
jalapeno sauce
garlic sauce
Product advantages:
flavor and color typical of the product
thermostability after thermal treatment
made of the best quality products
creamy texture
easy dosing and stuffing